GSTR-3B Return Due Date Amended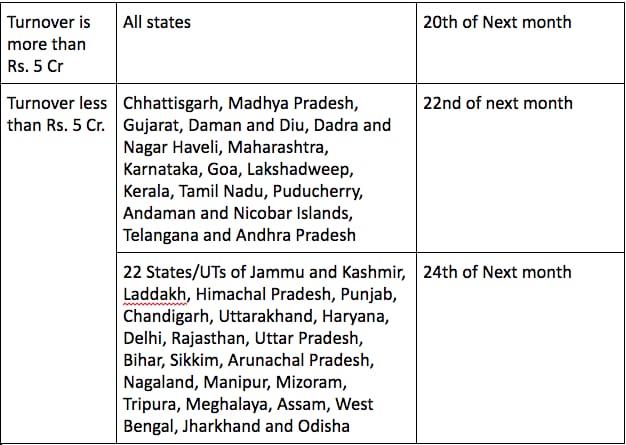 Import announcement made by Ministry of Finance regarding the due dates for Filling of GSTR-3B return.
The due date of GSTR-3B return is as follows:-
Taxpayers having annual turnover of Rs 5 cr and above in the previous FY would be 20th of the month.
The taxpayers having annual turnover below Rs 5 crore in previous financial year will be divided further in two categories.

The tax filers from 15 States/ UTs, i.e., Chhattisgarh, Madhya Pradesh, Gujarat, Daman and Diu, Dadra and Nagar Haveli, Maharashtra, Karnataka, Goa, Lakshadweep, Kerala, Tamil Nadu, Puducherry, Andaman and Nicobar Islands, Telangana and Andhra Pradesh will now be having the last date of filing GSTR-3B returns as 22nd of the month without late fees.
The tax filers from 22 States/UTs of Jammu and Kashmir, Laddakh, Himachal Pradesh, Punjab, Chandigarh, Uttarakhand, Haryana, Delhi, Rajasthan, Uttar Pradesh, Bihar, Sikkim, Arunachal Pradesh, Nagaland, Manipur, Mizoram, Tripura, Meghalaya, Assam, West Bengal, Jharkhand and Odisha will now be having last date of filing the GSTR-3B as 24th of the month without late fees.
The detailed post of Ministry of Finance as under:-
3B